Seriously. You do deserve a break. I feel like we all do!
Taking a pause to reflect on the first couple of months of the year, take a moment to breathe and check-in to see how you're doing physically, emotionally, spiritually. Pausing is a great opportunity to reset and reestablish any intentions you may have set yourself at the start of the year. Maybe they've changed? Maybe you haven't had a chance to start? It doesn't matter why or what, so if you feel you're ready now, you can take this opportunity to reenergize your plans as we move through Spring. A time of birth, growth, renewal. While sitting in my garden recently, I noticed the flowers and trees are starting to blossom.
My plan is to take a break too. I will pause to reconnect with my personal practice, to ground myself again and explore what arises.
There will be no classes the week of April 11th or 18th, but we'll be back on the mat or online again from the 25th. Remember you can book ahead of time and add the event into your calendar to make it as easy as possible to commit this time to yourself.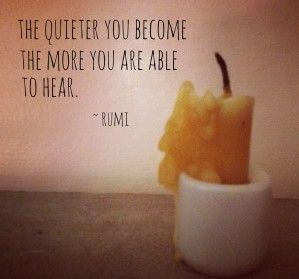 I've just completed a gorgeous Mindfulness for Beginners course which I will run again in May with a minimum of 2 people, maximum of 6. I am also planning another course called "Cultivating Mindfulness Everyday" for those who already have the basics but would like to learn more creative ways integrate this practice into daily life. If you're interested drop me a note, or keep an eye on the website for dates. Coming soon!
If you've missed classes but have passes you'd like to use up, there are many new class recordings available to purchase on the website shop. The site now accepts passes for classes through the payment system.
Wishing you all a peaceful Easter with your friends and family. May you all be well.
There is no controlling life.
Try corralling a lightning bolt,
containing a tornado. Dam a
stream and it will create a new
channel. Resist, and the tide
will sweep you off your feet.
Allow, and grace will carry
you to higher ground. The only
safety lies in letting it all in –
the wild and the weak; fear,
fantasies, failures and success.
When loss rips off the doors of
the heart, or sadness veils your
vision with despair, practice
becomes simply bearing the truth.
In the choice to let go of your
known way of being, the whole
world is revealed to your new eyes.
by Danna Faulds
Namaste,
Córa